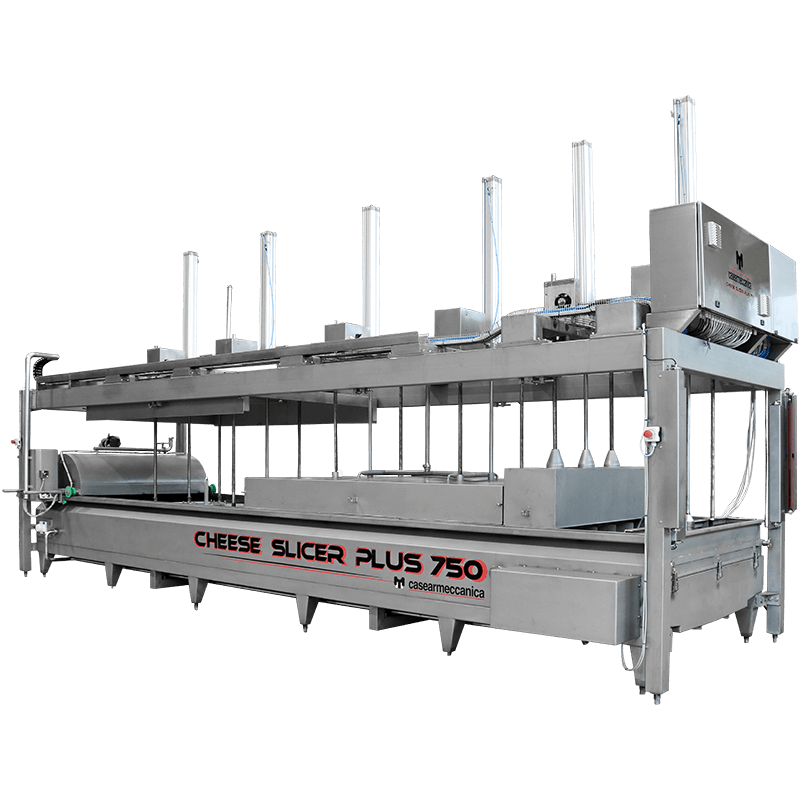 Automatic Forming bench CHEESE SLICER PLUS 750 with draining mat is equipped with a portioning, pressing and salting system of the curd coming directly from the cheese vats. It is possible to wash the entire system by directly connecting the CIP. The entire management of the plant takes place through the PLC panel and dedicated software "CasearTech". Ideal for forming blocks of semi-soft and hard cheese paste such as Asiago, Guda, etc.
TECHNICAL DATA:
Supporting frame for tank support and for connection of pressing, cutting and salting pistons.
Curd heating by steam distribution, with direct steam connection on the tank side and temperature sensor.
Curd drainage and pressing table composed of perforated "shutters" with a thickness of 1.5, made of AISI 304, 2B stainless steel, bent, reinforced and polished. «Blinds» fixed to two stainless steel chains for transport with a wide rotating wheelbase.
Curd pressing carried out by "pneumatic" cylinders with stainless steel stem, fixed to the structure. Pressing platform in stainless steel perforated plate and lattice in stainless steel plate.
Equipped with electric command and power panel, PLC and dedicated software.
Safety light curtains on all sides.
Cutting unit built entirely in stainless steel, with blades bent at 90°, in special steel, on which the fixed speed gearmotor with inverter is mounted.
Serum draining bench and pressing table made of stainless steel AISI 304 th. 30/10 reinforced with a tubular stainless steel frame for sliding the cutting unit. Bench with sloping bottom to allow easy discharge of the serum by pump.
Total dimensions 7500 mm x 1800 mm x 3500 mm.
System made of AISI 304 stainless steel, with TIG and MIG weld.
Standard equipment: washing system.
Optional: automatic milling machine towing system.
Optional: automatic salting system.
System equipped with an operator protection system with photocell barriers, positioned in the perimeter of the machine according to CE regulations.and for connection of pressing, cutting and salting pistons.
Arrangement for automatic washing through C.I.P.: washing carried out using fixed nozzles and mobile perforated washing balls.